Frequently Asked Questions
Below is a list of frequently asked questions.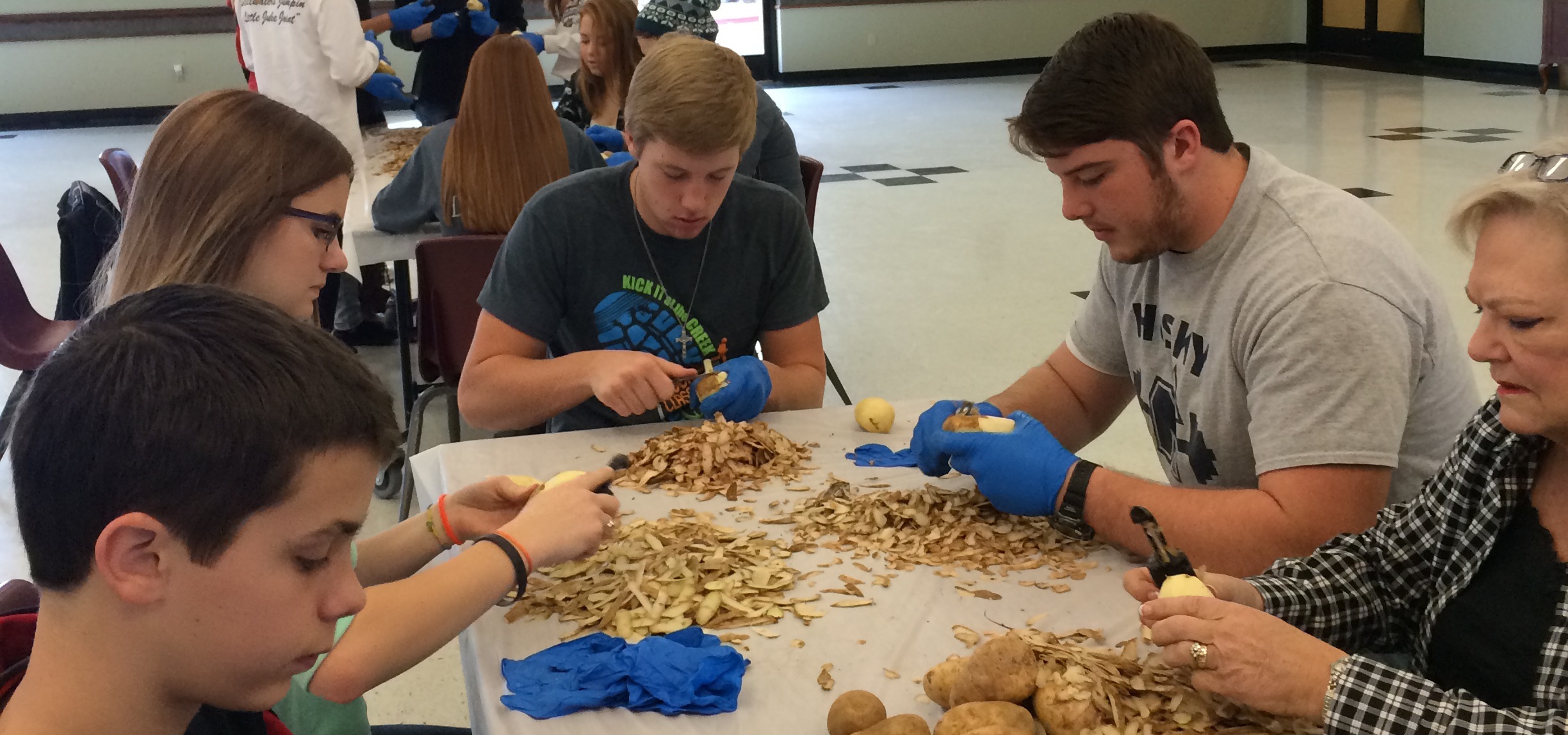 How can I help if I can't volunteer on Thanksgiving Day?
There will be cooking at three sites in town on the Monday and Tuesday before. The volunteer form shows the times. Also you can bring desserts for the dinner at home and then drop them off at First Presbyterian Church on Rankin on the Wednesday.
We want to volunteer as a family in the dining room. We have three children. Can we?
It is wonderful that you are teaching your children to help others. Young people over 13 years of age can work independently on many jobs. Any child under that age can be a parent's helper but for safety reasons must be under close supervision so they do not get in the way of servers and diners.
We are having a family dinner at home but still want to volunteer somehow.
We start at 7 am on Thanksgiving Day setting up the site before the 11 am dinner. Then starting at 3 pm we really need help to pack up everything and transport it to First Presbyterian Church. We also need volunteers at UCO to make sure everything is left clean.
How can a family with young children volunteer?
Helping with the delivery of meals to shut-ins is ideal for young families. You can help with assembling the dinners and also delivering them to homes.
Where do I park?
There will be a designated area for volunteers to park, to allow adequate parking for the dinner guests. Please watch for the signs. Also, because it's Nov, watch the weather and be prepared with umbrella or heavier coat, if needed.
How do I know when to show up?
Please show up at least 15 minutes prior to your designated shift to allow you to sign-in, get a name badge and be in place for your shift.
Where do volunteers go when they arrive at UCO?
The Volunteer room is on the ground floor of the Nigh Center. There will be greeters and signs directing you to the room where you will sign in and be given instructions before your group is taken upstairs to the dining area.
If it's cold, where can I leave my coat and bag?
There is space in the volunteer room where you can leave coats and jackets while you work. However we do not have a secure place for valuables such as purses so we suggest you leave them in your car.
If I have a problem standing can I still volunteer?
Yes you can since we have a few sit down jobs. We need Greeters to sit and welcome people and then direct volunteers and diners to different areas. Also in the dessert room we need help with making single servings.
Can I stay longer than my shift?
Absolutely! However, you may be asked to help out in another area, if needed.
Where is the Dinner held?
It is held in the ballroom of the Nigh Center at UCO.
I cannot leave my house. Can I still get a Thanksgiving dinner?
Yes we have Home Delivery for those unable to travel. You can call (405) 341-3602 or email [email protected] and leave your name and phone number so that someone can call you back to take your order and home address.
Are there gluten free dishes served?
Unfortunately due to the large number of dinners we serve, we are not able to cater to special dietary needs.
Can I just pick up a dinner to take home?
Yes we do offer Take Out meals but only from 1-3 pm, since our main mission is to serve those seated in the Ballroom first.